eCommerce Websites
eCommerce websites are online shops that are developed for the purpose of selling products and services to people around the world. They include a shop with category pages and individual product pages where you can showcase what you're selling with descriptions, images, reviews & more. They also need a basket page where people can add the products and services they wish to buy and then a checkout system that has to be integrated with a payment gateway.
Variations of products such as size and colour can be selected at the product level and variable prices can be given to the variations where necessary. eCommerce solutions also include discount functionality as well as reward points and voucher code discount options.
eCommerce Website Solutions from e4k
e4k provide eCommerce website design & development services to clients in Birmingham, across the UK as well as in the USA, looking to sell their products & services online. We provide bespoke solutions that answer all of our client's needs. Our designers & developers work together to provide a creative and unique website for businesses that want to stand out from the crowd.
It is said that people judge a website within 2 seconds of it loading, eye-catching website design is paramount to you retaining potential clients on your website.
Clivemark Schoolwear, (Magento Website):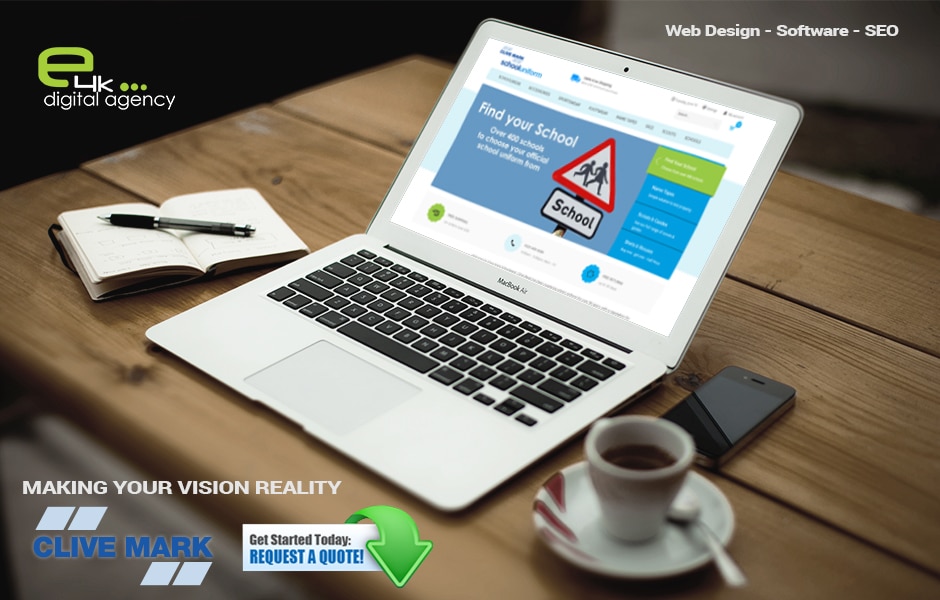 eCommerce Platforms
Our professional web designers and developers have used their expertise and experience to create stunning websites on the Magento and WooCommerce platforms for a wide variety of business sectors.
Over the years, e4k has created e-commerce solutions for many clients across the West Midlands and further afield around the UK and more recently in the USA.
Ashlee Interiors, Luxury Tiles, (WooCommerce Solution):
Advantages and Functionality of  eCommerce Websites
Sell online
Market products globally
Safely, securely and conveniently buy products and services online
Ready-made shopping cart solutions or custom-made option according to needs
 Choice of payment gateways
Sales tracking built-in
Currency exchange where needed
Comparison tools to easily compare products
Similar products to upsell
Cross-selling options for extra sales
Promotions with vouchers and codes
Discounts codes
Rewards systems
Membership options
Live chat
Language options
Reasons for our Success
Our expert team creates eCommerce websites using modern technologies to deliver top-notch solutions for increased sales and ROI for client's businesses.
Our developers concentrate on:
Quick load time
Mobile responsiveness
Easy check-out
Clear call-to-action
Secure shopping
Social sharing
Product reviews
Highly visible contact information
Get a free eCommerce consultation from our experienced professionals by calling 0121 66 66 534  or email us sales@e4k.co