QR Codes for Menus, Product Lists and Services.
In 2020 QR Codes are even more useful than they ever were.
If you run a restaurant, pub, bar, hair salon, beauty salon or anything where you offer a range of products and services, then physical menus and lists that customers usually use may be a breeding zone for the dreaded Covid-19 virus.
A QR code is a scannable bit of code that is easily read by the vast majority of modern smartphones. Once scanned the menu of food or services appears on the phone. This reduces the touching and use of physical menus and documents thereby reducing the chance of transmission of the virus.
One example is our client The Glamour Garage, where we introduced a QR code for the services they offer. The QR code is displayed in the window of their shops so that anyone walking by or entering the salons can scan the code and look at the menu of services they have to offer including their prices.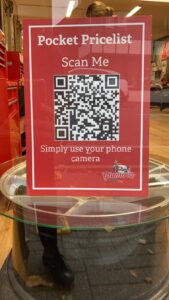 Another use might be where you offer documents to your customers such as terms and conditions or instructions for use or even cleaning advice for your products. The more you think about it the more uses there are for this simple technology. Current or new clients can get in touch and we can discuss how it works. QR codes can be included in emails, letters and we even had one client put one on a billboard.
If you feel your business could benefit from the use of QR Codes or you'd like to discuss the possibilities, get in touch today.
QR Codes offer an affordable change to help keep people safer during the pandemic.