SEO: Search Engine Optimisation
SEO agency Birmingham, local, national and international.
Search Engine Optimisation or SEO as it is commonly called is all about getting your website found on Google and other search engines by the people who matter.
The higher you rank on Google the more traffic comes to your website.
The more traffic that comes to your website, the more chance you have to sell your goods and services.
e4k is an Award-Winning SEO Agency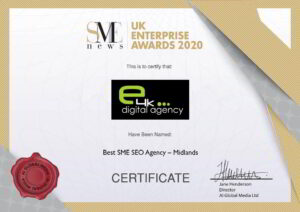 e4k Digital Agency is an award-winning SEO agency, based in Birmingham, UK, with offices in the USA and India.
How we can help you achieve more
Our SEO Company offers affordable, organic SEO services (Search Engine Optimisation) as a monthly paid service.
e4k rank companies locally, nationally and internationally, depending on your business model.
We work on a month to month contract with one month's notice.
e4k asks that you commit to us for 3-6 months to see the improvements we can bring.
Free SEO Audit & Consultation 
e4k offers a free, no-obligation SEO analysis of your website.
This is followed by a consultation where you can tell us about your company and what you want to achieve.
What is SEO & Why do you need it?
SEO is based on trying to improve your rankings (for your targeted keywords) which are determined by search engine algorithms.
Your website's rankings on Google depend on over 200 factors, including relevancy to the keyword, authority, site speed, functionality, on-page SEO, backlinking, user signals & more.
Our SEO services are about driving relevant traffic to your website and making sure your website is best set up to convert those visitors into customers.
75% of consumers search online before purchasing services or products. If you are not in the results they see, you are missing out on a huge potential client base.